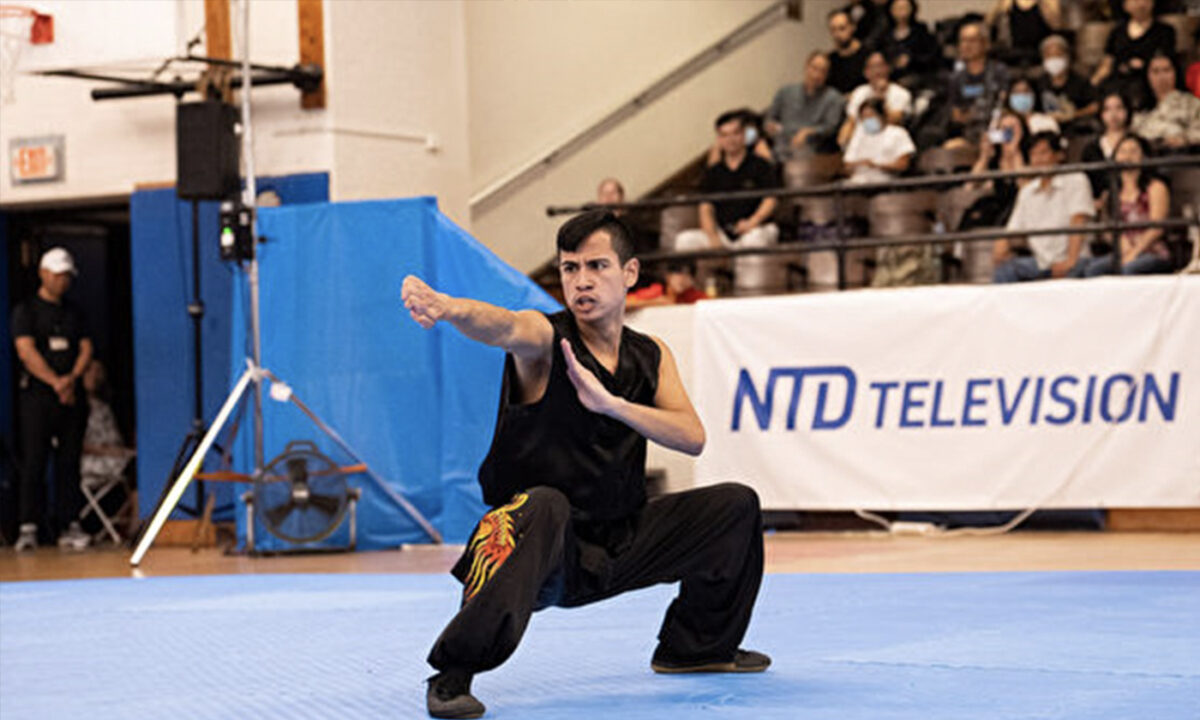 Participants said the competition made them love traditional Chinese martial arts even more
In the recent 2022 (7th) NTD International Traditional Chinese Martial Arts Competition, almost all of the contestants expressed an understanding that the competitors in this competition are "not enemies", but "friends" or even "members". of the family ".
Some contestants said it was a "priceless" and "valuable" gain for them from the competition. Others said that by participating in this competition, they became more enamored with traditional Chinese martial arts. In particular, many agreed that the spirit of using martial arts as a way to learn from each other, rather than being rivals or enemies, is exactly part of the "great virtue" of martial arts. .
Non-Chinese competitor: the friendships forged between the candidates are priceless
In this competition there was a bald "monk" in a Buddhist cassock, who performed the aptly named "Great Arhat Boxing". He made people believe that he really could be a monk. However, he later admitted that he was only a follower of Buddhist philosophy and therefore practiced Buddhist-style boxing. He is not a monk in the usual sense.
The "monk" was Venezuelan Daniel Hernandez, who emigrated to the United States in 2021. Hernandez began learning martial arts when he was 6 years old and has been practicing for 22 years. When he heard about this competition on the Internet, he was moved by its mission and concept of "reviving the true divinely inspired traditional Chinese culture (via martial arts)".
"Get rid of the elements of modern martial arts (keep it traditional), that's much more important," Hernandez said. In fact, he just finished a competition in August in Florida where he was beaten by a man who fought in the same style as him but added some modern martial arts (MMA) elements. This guy didn't come here to compete this time. Because what is required here is pure 'traditional Chinese martial arts', nothing more," he said.
Traditional Chinese martial arts are more than just movement
"Once your thoughts reach a certain level, it will help improve your mind, improve your movements and even your life." He said his mentor told him that Kung Fu (Chinese martial arts) involves uniting people's "body, mind and spirit". "When these three elements are combined in the right way and then realized as movement, you can truly appreciate the difference between you and those who only practice physical movement."
After training day after day and years of continuous practice, Hernandez said he was able to enter a state of natural "meditation". At that point, he no longer needs to think about movement, the energy pushes his body to move naturally on its own. "It's real art," he added.
On a spiritual level, Hernandez learned from traditional Chinese martial arts qualities such as self-control, perseverance, not giving up easily, and doing your best without asking for results. These qualities led him to obtain a double degree in philosophy and psychology, as well as achievements in the martial arts.
Hernandez said what he likes the most is the family atmosphere among the competitors in this competition, which leads to continuous contact and more friendly exchanges with the competitors even after the event is over.
"The friendship between the players is so important. Even though we are in competition, we really hope that the other party can do well and win. And we could also expect the same from the other party. "It's what competition can offer as 'true inherent energy', which is the most priceless gain for me," he said.
Chinese competitor: This makes me love traditional Chinese kung fu even more
Ye Zhiming, a Chinese-American competitor and a first timer at the event, competed in the second round of the Southern-style boxing group "Wuxing Quan (5 styles of boxing, Cai Lifo faction)". He said he fell in love with competition almost immediately.
"First of all, the most remarkable thing is that this competition does not give marks to the contestants. Which I really like. I am also grateful for this competition because the judges only focus on traditional martial arts skills, nothing about modern martial arts, which I have never encountered before," Ye said.
The second thing he loves is meeting competitors from all over the world who have participated in the competition and shared their own views on martial arts and their understanding of Chinese culture. "It really is a beautiful thing," he said.
"The contestants in this contest feel like they belong to the same family. We really learn from each other through friendly exchanges and functioning together. After so many rounds of competition, we understand each other better and my love of martial arts traditional chinese [has grown]." "That's exactly what the organizer pointed out from the beginning, that they promote 'Wu De' (the virtue built into martial arts) more," Ye said. At the same time, he realized that "Wu De" could also play a positive role in all aspects of his life, including his university studies and his work.